Product Description
Chorionic gonadotropin is a protein. In the unlikely event of an anaphylactic reaction, epinephrine should be administered. The administration of an antihistamine may also be indicated. No withdrawal period is required for cows or brood finfish treated according to label directions. The total dose administered (all injections combined) should not exceed 25,000 I.U. (25 mL) per fish in fish intended for human consumption.
Generic Name: Chorionic Gonadotropin for Injection
Trade Name:Chorionic Gonadotrophin for Injection
[Main Ingredients]
Chorionic Gonadotropin
[Description]
This product is white freeze-dried block-shaped substance or powder
[Functions]
Hormone. This product has follicle-stimulating hormone (FSH) and luteinizing hormone (LH)-like effects. It can promote luteinizing hormone and ovulation in female livestock. It has no effect on immature follicles. It can promote the secretion of androgen in testicular stromal cells and promote the development and maturation of sexual organs and secondary sexual characteristics. For animals with anatomically abnormalities, villus vasopressin can also reduce testicles in cryptorchidism.
[Indications]
It is used to induce female ovulation and estrus, and treatment of bovine follicular cysts and cryptorchidism in horse and dog.
[Usage and Dosage]
Intramuscular injection, one dose, horses & cattle - 1000 to 5000 units; sheep - 100 to 500 units; pigs - 500 to 1000 units; dogs - 25 to 300 units, 2 or 3 times a week.
[Precautions]
(1)Avoid long-term use to avoid antibodies and inhibit gonadotropin function.
(2)This product solution is extremely unstable, and is not heat-resistant. It should be used in a short time.
[Adverse Reactions]
No adverese reactions were found with the recommended usage and doages.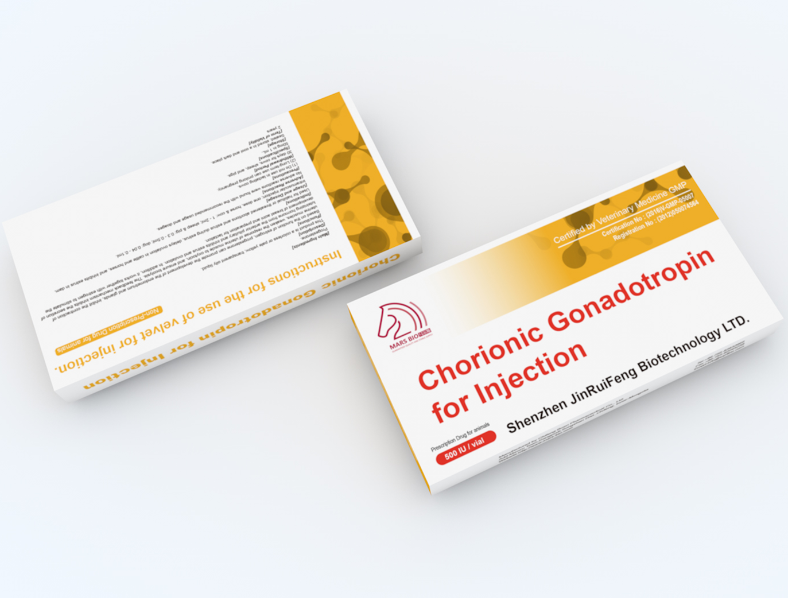 Veterinary Progesterone Injection Medicine
Veterinary Testosterone Propionate For Injection
Estradiol Benzoate Injection For Animal
Chorionic Gonadotropin For Livestock
Veterinary Use Oxytocin Injection
Cloprostenol Sodium For Vet