Product Description
PMSG is a potent gonadotrophin, with dual FSH and LH activity. It is composed of two non-covalently associated alpha and beta subunits, and is heavily glycosylated on its CTP tail. This extensive glycosylation is of key importance for obtaining the extended half life in blood typical of PMSG. As PMSG binds to FSH and LH receptors, it stimulates follicular growth and follicular maturation during the days preceding oestrus and ovulation. Limited amounts of PMSG will result in induction and synchronization of ovulation in cattle and small ruminants, irrespective of their cyclicity prior to treatment. Administration of slightly higher amounts will modestly increase ovulation rate and litter size. Administration of high amounts of PMSG will result in superovulation, therefore resulting in the numerous blastocysts needed for embryo transfer. PMSG also has the potential to induce puberty in swine.
Generic Name: Serum Gonadotrophin for Injection
Trade Name: Pregnant horse serum
[Standard]
Veterinary Medicine Quality Standard 2017
[Main Ingredients]
Pregnant mare's serum gonadotropin
[Description]
This product is white freeze-dried block-shaped substance or powder.
[Functions]
This product has follicle-stimulating hormone (FSH) and luteinizing (LH)-like effects. It can promote follicle maturation, ovulation and corpus luteum production, and stimulate the corpus luteum to secrete progesterone in female livestock. It can promote the secretion of androgen in testicular stromal cells and promote the formation of spermatozoa in male livestock.
[Indications]
Mainly used to induce estrus and promote follicle development in dams; also used for superovulation during embryo transfer.
[Usage and Dosage]
Subcutaneous, intramuscular injection: one dose. For estrus: horses & cattle - 1,000~2,000 units; sheep - 100~500 units; pigs - 200~800 units; dogs - 25~200 units; cats - 25~100 units; rabbits & otters - 30 ~50 units. For superovulation: cows - 2,000~4,000 units; ewe - 600~1,000 units.
Diluted with 2-5ml sterile saline before use.
[Precautions]
(1)Avoid long-term use to avoid antibodies and inhibit gonadotropin function.
(2)This product solution is extremely unstable, and is not heat-resistant. It should be used in a short time.
[Adverse Reactions]
Individual animals may have allergies. Routine treatment with dexamethasone or epinephrine is sufficient.
[Specifications]
1000IU/Vial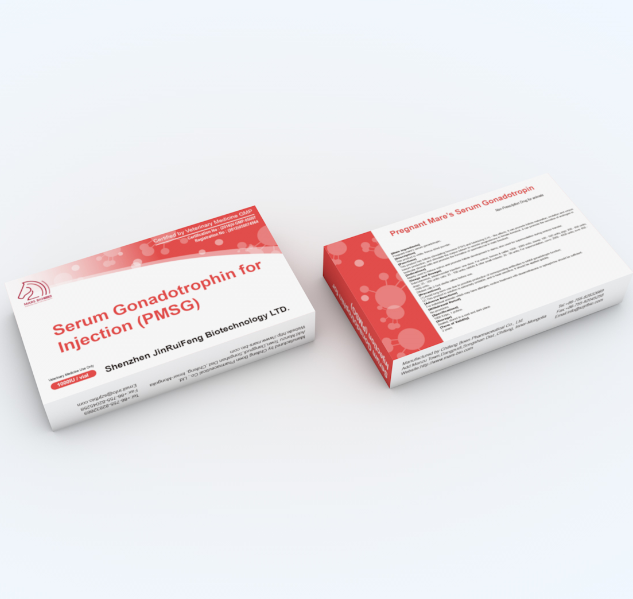 Veterinary Progesterone Injection Medicine
Veterinary Testosterone Propionate For Injection
Estradiol Benzoate Injection For Animal
Chorionic Gonadotropin For Livestock
Veterinary Use Oxytocin Injection
Cloprostenol Sodium For Vet